Meatballs - Fully cooked - IQF
Features and benefits
Fully cooked homestyle meatballs
IQF for better preservation
Lightly seasoned
Always tender and juicy
Fast and easy to prepare
Sizes available 10g, 14g, 22g, 25g, 26g
Beef, pork, veal and Italian style meatballs.
Also available with vegetables, allergen-free.
COOKING INSTRUCTIONS
Thaw in refrigerator
Heat until internal temperature reaches 71°C (160°F)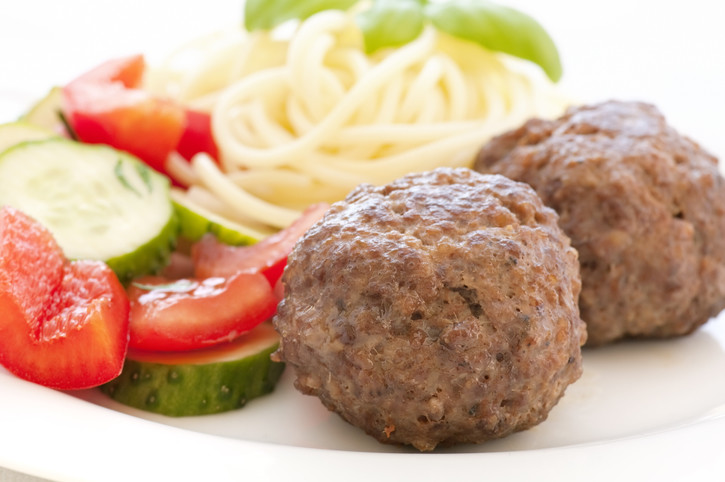 Ingredients
17038: Beef, water, toasted wheat crumbs, salt, modified corn starch, spices, sugar, dehydrated onion, sodium erythorbate, concentrated soy.
Specifications
| Product | Un weight | Cs weight | Product code | Palletization (Ti / Hi) |
| --- | --- | --- | --- | --- |
| Beef | 10g ±1 | 8.0 kg | 17038 | 12 / 4 |
| Italian beef style | 14g ±1 | 4.54 kg | 17037 | 12 / 4 |
| Italian beef style | 25g ±3 | 4.54 kg | 17036 | 12 / 4 |
| Beef and vegetables | 25g ±3 | 4.6 kg | 17032 | 12 / 5 |
| Pork and vegetables | 25g ±3 | 4.6 kg | 18002 | 12 / 5 |
| Veal and vegetables | 25g ±3 | 4.6 kg | 17035 | 12 / 5 |
Valeur nutritive
Nutrition Facts
Par 100g Code 17038 / Per 100g Code 17038
Teneur
Amount
% valeur quotidienne
% Daily Value
Calories / Calories 220
Saturés / Saturated 5 g
+ Trans / Trans 1 g
Cholestérol / Cholesterol 65 mg
Glucides / Carbohydrates 4
Fibres / Fibre 0 g
Sucres / Sugars 0 g
Protéines / Protein 19 g